By using your whole body, you can manifest all kinds of emotions in a stroke of a line.
With rhythm, you can express something hidden inside yourself.
Internationalization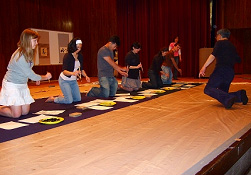 In the modern society, a lot of Japanese people are living outside of Japan. On the other hand, a lot of Non-Japanese people are interested in Japan. The amount of visitors to Japan increases yearly, and many visitors work and live with their families in Japan.
Brush Play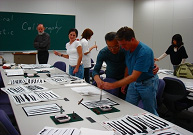 At the Naniwa Calligraphy Association, we naturally also teach Japanese students,  but we use the performance art calligraphy as an international "communication tool" for all nationalities. For us, it is important to teach calligraphy not in a stiff or formal manner,  but to present an enjoyable "Brush play" way.
The Soul of Japan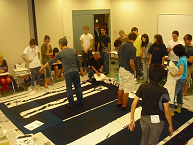 We don't only experience calligraphy.
We express what we feel toward one stroke of a line. Occasionally we also encounter the "Soul of Japan" (literally: "The Heart of Harmony"), that is also present in other Japanese traditional arts like the Tea Ceremony or Ikebana.
Future Perspective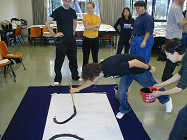 We believe that it is our mission to continue to offer opportunities for Non-Japanese, who are living in Japan, to encounter Japanese culture. We also offer a place to acquire teaching skills, for those who plan to continue their activities overseas.
About the Naniwa Calligraphy Association
The association was founded in 1948. It supports Japanese culture that will be inherited by the next generation by adapting to the changes of modern society and introducing calligraphy as one of the traditional Japanese performance arts.
Introduction of Activities
Demonstration/Workshop overseas CANADA, IRAN, USA (Illinois, San Francisco), etc.
We were invited to go overseas and offered to have different kinds of presentations.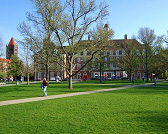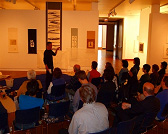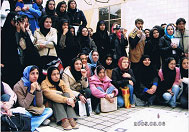 Summer School and different kinds of courses in Japan: International Christian Univ. ,
Osaka Univ. of Foreign Studies, Konan Univ. etc.
We teach University students and graduates who want to study instruction methods.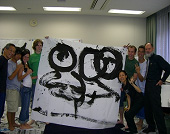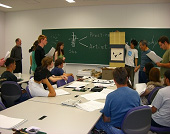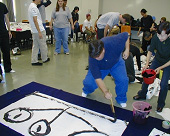 Exhibitions and Events : At each of the different exhibitions and events, we conduct
English commentary and offer hands-on experiences. We also offer advice on the creation of banners, signboards and novelty goods.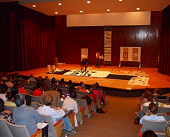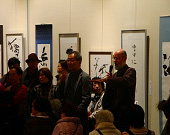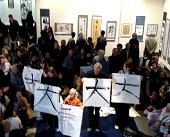 国際交流 activity report vol.1(PDF:982KB)